Walker Metalsmiths is a craftsman run workshop specializing in authentic Celtic rings and Celtic design jewelry in silver, gold, platinum, mokume and mixed metal designs. Our workshop and gallery is located in the Village of Andover in rural Allegany County of Western New York State, with a second shop recently opened in Fairport, NY. We sell our own work as well as the creations of many of the best Celtic designers and jewelers from Ireland, Scotland and Wales.



One Main Street
PO Box 706, Andover NY 14806

Visit our online shopping site

US or Canada: 1-800-488-6347
email: [email protected]
International: 001-607-478-8567
Originality of Design

Celtic designs have an ancient heritage, but most of the designs on this site are original or are old designs re-worked for contemporary artistic use. Because Celtic Art often is used to make a link to the distant past it is often misunderstood that genuine designs can only be copied from antiquity. This is unfortunate because artistic integrity demands that the designer create a new manifestation of the art, unique to present times.

As a living art form, Celtic Art can only be sustained by pursuing the goal of mastery of the creative process that ultimately results in new and imaginative work. The Celtic jewelry and artwork shown here is not an imitation of historical Celtic Art but rather an affirmation that new and original creations are authentic continuations of that artistic heritage.
The work illustrated on these pages represent the creative effort of Stephen Walker and various other craftsmen and designers. With the exceptions of several of the simplest knots, none of these designs should be considered public domain. It is commonly and wrongly supposed that all Celtic designs are ancient and therefore free from copyright restrictions. The truth is that new, traditionally correct designs often look as if they could be very old, but they are none-the-less intellectual property of the artist.


Walker Metalsmiths
is a Sponsor of the Nicol-Brown Bagpipe Competition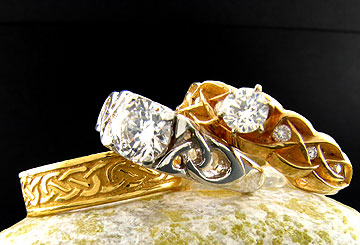 Celtic Rings in Gold, or Silver

Ring size chart with International coversions
If you have questions, please e-mail us at service@Walker Metalsmiths.com For faster answers to your questions please click on Frequently Asked Questions before you e-mail or feel free to call us at 1-800-488-6347. Wholesale enquiries, sorry we are not accepting new trade accounts and do not have a catalog available.
Use of copyright designs by anyone other than the artist requires permission in the case of personal use or a licensing agreement in the case of commercial use. All rights reserved.