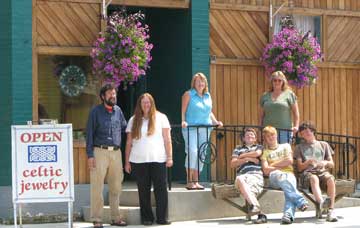 Walker Metalsmiths is a family run arts and crafts business run by founders Stephen and Susan Walker (left). Stephen is the designer and master craftsman and Susan is Stephen's wife, muse and business manager. Standing on the steps are Suesette and Ella who take care of customer service. Seated are Willie, Kevin and Donald, who are learning the art and mystery of goldsmithing and assist Stephen in the workshop. The original workshop and showroom is in the Walker's hometown of Andover, NY.
Our websites:
Walker Metalsmiths has three websites, each of which originally served a different purpose, but now have become somewhat overlapping.
www.celtarts.net is our original domain begun in 1996. The articles and historical content still catch many web searches, but most actual sales have been moved to www.walkerscelticjewelry.com, which is a more up to date and user friendly web based shopping site.. www.walkermetalsmiths.com was our shopping site but is now just a pass thru to walkerscelticjewelry.com
All three of these websites are designed and maintained in-house by Susan, Stephen and Maggie Walker with technical assistance from Eric Miller.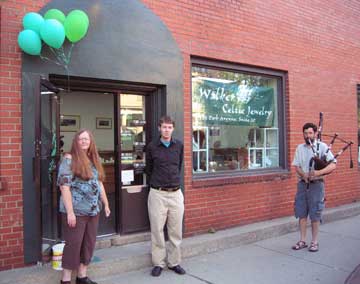 A second shop was opened on Saint Columba's Day, June 9, 2007
on Park Avenue in Rochester.
In May 2009 this shop moved into a bigger space at
140 Packets Landing , Fairport, NY.