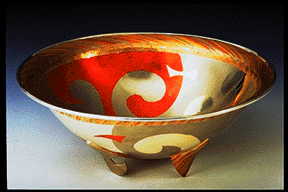 Sold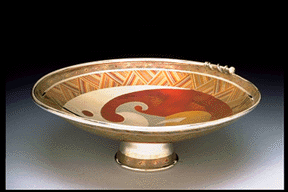 Sterling silver, brass, copper, nickel, and bronze. 9" diameter. $3,500
The technique used to create these bowls is to construct by silver soldering panels of sterling silver, brass, copper, nickel-silver and bronze. They are not "raised" in the traditional sense. The stripes and woodgrain patterns are forge welded using the mokume gane wood grain metal process.
Married Metal and Mokume-Gane
Bowls and Candlesticks
The figure ground relationships in La Tene Celtic spirals were only rarely crafted in contrasting metals in ancient times. The only well known example is the silver and copper panels on the reverse of the Tara Brooch. The objects shown here are all the products of a modern craftsman who is continuing and adding to Celtic design traditions. The techniques and combinations of materials presented here are not representative of Celtic metalsmithing from the past.
The wonderful pallet of colors and texture is available by using the married metals silver soldered construction technique and the Mokume technique of solderless forge welding stripes and wood effects.
Each of the examples shown here uses five alloys chosen for their colors. They are sterling silver, brass, copper, bronze and nickel silver. Nickel silver is an alloy that contains no actual silver and shows up as a gray in contrast to the white sterling silver. The rich reds and oranges that you see are the result of a heat patina that is a surface oxidation on the copper and bronze.
Designs (c) copyright Stephen Walker 1994, 1995 & 1996.