How Mokume is Made
During the 2003 Allegany Artisans Studio Tour we presented our first ever public demonstration of this exciting process. In the past, our forge and power hammer were set up in a space that was not appropriate for visitors. This September the equipment was installed at our workshop on Main Street in Andover. By having materials prepared in advance we showed the entire lamination cycle, from metal preparation, through heating and forging in a two hour demonstration.


Click for a closer look

Stephen Walker is available to teach workshops and lecture about mixed metal techniques and other aspects of his work.
Click for more details.

Sheets of brass, copper, nickel-silver and bronze are scrubbed clean.

Metal is dried quickly and inspected.

Last minute touch-up.

37 individual sheets are bolted tightly between steel plates.

After heating for about an hour the fused billet comes out of the forge.
Please note: This billet is heated to over 1600 F, which works just fine for this combination of alloys. If the billet was silver and copper the elements would combine into a eutectic alloy that would melt out at this high temperature.

Steel plates are removed while the metal is still very hot.

The billet of mokume is reheated and hot forged from a thickness of over 2 inches thick to about half an inch. The machine is a 1914 vintage Bradley power hammer.

A section of the billet with the edge polished. Slabs of metal may be sawed off the edge to make stripes.

Woodgrain patterns are made by punching bumps up on thinner sections of the metal and filing through them to expose bull's-eyes of the colored layers.
Finished jewelry and holloware is made by cutting and shaping the permanently bonded stripes. More complex designs can be made by rearranging stripes and adding sections of plain metal. These are referred to as "Married Metals" when silver soldered into new patterns. Woodgrain effects and twists are another way of developing pattern welded material. The traditional Japanese methods from which this process derives relies heavily on woodgrain patterns, hence its name: Mokume-gane or woodgrain metal.
Stephen Walker is available to lecture or teach workshops on mokume and various other subjects.
Click for details.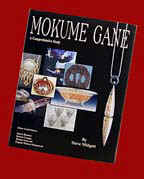 The best ever book on Mokume Gane by Steve Midgett (off site link) featuring work by Stephen Walker as well as many other masters of this difficult craft.